Update Your Deck with an Outdoor Kitchen
As the highly anticipated and much appreciated warmth of spring and summer rolls in, you may find yourself spending more time gathered with friends and family outside on your deck or patio. Many people see their decks as an extension of their homes' living spaces. Upgrading your deck by installing an outdoor kitchen can enhance this living space by creating a more engaging environment to spend time with those close to you.
The modern outdoor kitchen actually beats the indoor kitchen in many respects. Where else can you cook, entertain, and accommodate a wide variety of occasions from dinner with the family to special occasions like birthdays, holidays, wedding receptions, and anniversaries—all in the great outdoors on your own deck.
The ability to free yourself from the indoors at mealtime while also enjoying the fresh air and sunshine – or moonlight – is an exciting alternative to being cooped up inside. Rather than being stuck indoors preparing a meal by yourself, having a fully equipped outdoor kitchen allows you to simultaneously cook and enjoy your guests.
With sufficient counter, prep, storage, and cooking space, outdoor meal preparation can be fun. Here are practical tips for creating an outdoor kitchen that's perfectly suited to your lifestyle, climate, landscape, cooking needs, and budget.
Weather-resistant outdoor kitchens can include sinks, refrigerators, counters, stoves, high-tech grills, bars, keg coolers, shelving, cabinet space, fireplaces, tables, decorative tiles, lighting, torches and more. All of these components are designed for beauty and functionality as well as to withstand the elements.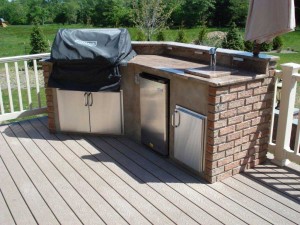 Making decisions on the features and design of your outdoor kitchen depends on taste, space, and a number of other factors such as family size, frequency of entertaining, and the maximum number of guests you want to accommodate. You'll also have to consider whether you'll want to use your outdoor kitchen all year round or just during certain months.
Many people make their outdoor kitchens accessible to their indoor kitchens. This allows them to have access to additional prep space or for transferring ingredients from the indoor kitchen to the outdoor kitchen.
Layout depends on the size of you deck and the amenities you want to incorporate. Design styles are almost infinite. Some people use the design of their deck to provide direction while others let the kitchen design dictate changes to the existing deck in order to make a cohesive whole. Everything from counter space to adjacent tables and chairs complete the picture of a full-fledged outdoor entertaining experience. Add a variety of lighting elements and you're ready to go.