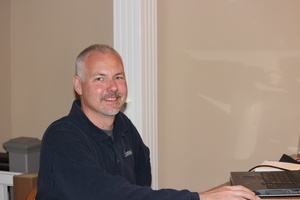 Hello, my name is Bill Wilson, and I am co-owner of Amazing Decks.
I grew up in Ambler, PA and graduated from Wissahickon High School in 1985. I have 5 sisters and 1 brother. Some are ½, some are full, some lived with us, some did not. You see, my parents were married before they married each other and with that comes baggage. A lot. I learned family is defined not by paternity but by the grace of God.
Family is a gift to be cherished and nurtured. It takes humility, dedication, loyalty and work. My family is the single most important part of my life. I met my wife Jennifer when I was 28 years old and we were married at age 30. We have been happily married for 13 years. Jennifer is my rock, my inspiration and my best friend. We adopted Lauren (8) from China and Marshall (7) was born just 2 months after my return. Noah (3) was born a few years later or a few years ago however you want to look at it. We attend Calvary church in Souderton where Jen and I are Sunday school teachers. Each week we have the privilege of teaching 20-30 6th grade students. We really love getting to know these kids and it is amazing to see how smart they are. Our hearts are always broken at the end of the year when they move on to a different grade. Jen and I purchased a boat last year and we spent the summer exploring different bodies of water including Lake Ontario and the Chesapeake Bay. My family loves boating, but we are struggling with learning how to water ski. It surly doesn't look pretty, but we will get there.
My partner Keith and I played football together at Wissahickon and attended Drexel University together. We both graduated in 1990 into a very soft job market and started DunDraft, Inc. in January of 1991. Our early years were wrought with difficulty after difficulty. No matter how hard we worked, we never had enough money and we just lacked the practical business-management knowledge we desperately needed. Within 5 years, our idealism seemed to have bled completely out and we found ourselves at an emotional rock bottom. It is at this place where my character was refined and shaped. A new seed had been planted that is still growing today.
I learned how to take problems head on and turn them into opportunities. I am an entrepreneur. Keith and I have developed a dynamic business that has steadily increased in sales and profitability. We are now one of the largest deck companies in the Philadelphia area and I am proud of what we have accomplished. Success is a good thing, but more important is the friend I have in Keith. He challenges me to be a better partner and a better person. He is my boss when I need correcting and my friend when I need comforting. This formula carries over to the products and service we produce and the manner in which we conduct ourselves with suppliers, employees and customers. This formula is limitless and eternal.
God, family, friendship and community are the focus. A successful business is just a byproduct. A life filled to the brim is the result!