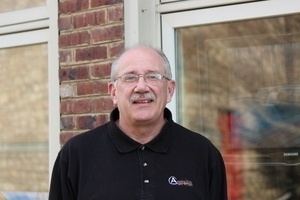 Hello, my name is Ed Fulmer. I graduated from Father Judge High School in 1973 and Penn State University in 1977. Shortly after graduating from Penn State, I married my college sweet heart Marie. We moved to Abington Township, Pennsylvania where we still live. Marie and I have two children and I recently became a grandparent of twin boys. I also enjoy taking the dogs on long walks in the neighborhood and exploring local parks. I am also an avid golfer.
I have been working in the home improvement industry for most of my professional life. I worked for Thermal Industries, a window manufacture for 30 years. That's how I met Bill and Keith, the owners of Amazing Decks. They have been my account for the last 21 years. I have met thousands of home improvement dealers, but always had a special relationship with Bill and Keith. They seemed to do things different, focusing on the person and not just the project. This philosophy has enabled them to grow into a successful business and I am glad to be a part of it. I don't feel like another number, I am a member of a family.
I started working with Amazing Decks about 3 years ago part time, but now I am a full time associate. I am excited to combine my 30 years experience along with Amazing Deck's commitment to customer satisfaction. I look forward to meeting you and helping you to improve your home.
Ed