Patios and decks with roofs provide a relaxing shaded area to enjoy your deck on even the hottest of days. There are a wide variety of covered deck ideas in our portfolio. Amazing Decks can customize your roof design to perfectly compliment your outdoor living and entertaining area.
Decks with Roofs from Amazing Decks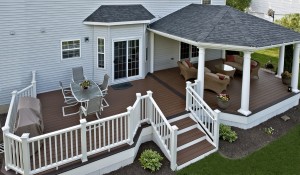 With our handsome roofed deck designs, your deck becomes an additional living space outside your home. A lovely roof over a functional deck means you and your family can enjoy the outdoors while being protected from sun and rain. Want a television, computer, or stereo on your deck? Decks with roofs offer a means to safely operate electronics in an outdoor entertainment system.
With a sturdy roof for your deck or patio, you'll be able to spend more time outside, enjoying your back yard like never before. And that time can be even further extended by having a fire pit custom installed to bring warmth during the chilly autumn and spring months.
By combining any of our beautiful deck roof designs with a heat-breathing fire pit, imagine how much more you'll loving being outside with family and friends. A deck setup such as this is ideal for throwing dinner parties, celebrating graduations and weddings, enjoying holiday events and just relaxing in luxury.
Covered Deck Ideas with Screens for More Livability
For even more protection from the elements, we can screen in your entire deck or patio area, making it a lovely sun room with less wind and dust than open designs. Amazing Decks can create your roofed deck area any way you want it. Our experienced builders are here to meet every one of your expectations and requirements.
And don't forget that a custom deck roof designs automatically increases not only the aesthetics but also the value of your property. A fine roof covering your deck or patio will provide pleasure for you now and become an attractive selling point when you put your home on the market.
Interested in a Covered Roof?
Want to learn more about our beautiful roofed deck designs or schedule a free estimate? Contact us today!
Call Amazing Decks at (215) 654-1886, or stop by our showroom at 11 South Ridge Ave. in Ambler, Pa. We look forward to meeting you. For information covered deck ideas and designs for decks with roofs in New Jersey, please call us at (215) 654-1886 to learn more.