When you think of a deck, do you think of beauty, durability, strength and perfect colors and patterns? Then you're thinking of Trex deck designing and railings. Amazing Decks is a specialized in Trex deck builder and can expertly install a custom trex deck for you that will serve as an enjoyable extension of your home for years to come.
Here, we'll present a basic look at Trex deck designs and the benefits they bring to any home. If you'd like to gain a more thorough understanding of these outstanding decks, visit our Trex Decking Overview Page.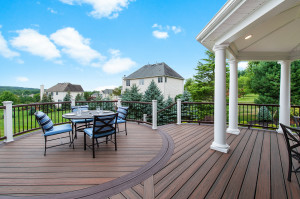 There you'll learn about the material in Trex decking, railings and flooring and the many versatile ways this product is used. Trex decking designs are amazingly flexible. Trex deck designs will give you a stunning tropical hardwood look while never requiring the maintenance and repair that real wood needs as seasons pass. Since they are made from super strong composite materials, Trex decks stand up well under any kind of wear and weather.
Options for Trex Decking Designs
Available in many colors, there's surely a color option that will compliment the exterior of your home in an amazing way. Shades include lava rock, spiced rum, tiki torch, fire pit, gravel path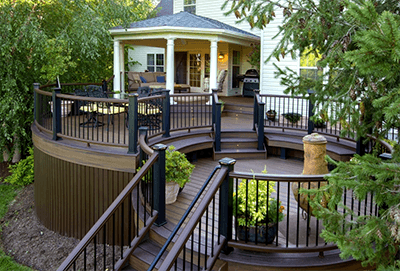 and more – all with the look of exotic wood but without the maintenance hassles that go along with it.
Our Trex deck designs also includes durable composite railings to safeguard your family and guests. Like the deck materials, the railings have a slightly textured surface and are easy to clean and maintain. The railings feature seamless designs with beautiful detail at a level that will make you think an artisan crafted them.
The Trex Decking Difference
Discerning homeowners initially choose Trex decks for many reasons. As years go by, they're glad they did because their decks and railings experience no splintering, rotting, warping and other deterioration the way wood decks and railings do. There's no painting or staining involved with a quality Trex deck design.
Work with a Leading Trex Deck Designer
If you've decided that an awesome deck will be your next home investment, Amazing Decks can create one that not only looks great but is fully functional as an outdoor living space. Our custom deck designs can include outdoor kitchens and fireplaces as well as pools and hot tubs. When you go with a trusted, experienced Trex decking builder, you'll get the deck you always wanted and workmanship that is second to none.
Contact us today to get started with your custom trex design or give us a call at (215) 654-1886 or (800) 220-3275 to learn more.
Check out our recent custom Trex decking projects for inspiration.