One of the many versatile products that are used by Amazing Decks is Unilock Paver Stones. Nothing compliments the landscape and your outdoor oasis like the look of natural stone, and Unilock Paver Stones allow our skilled designers and craftsmen to meet any outdoor vision.
Incorporate Paver Stones Into Your Patio and Deck Designs
Combine them with your amazing deck to create multilevel patio designs or custom kitchen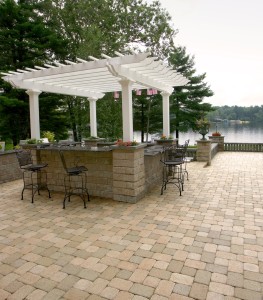 areas. Choose them as the perfect underfoot surface for everything from your outdoor pergola or outdoor seating area to walkways and approaches that connect various areas of your back yard. Unilock Paver Stones resist everything from slips after a spring rain and de-icing salt during winter months to the common spills from your outdoor kitchen and beyond. Perfect for pool surrounds or outdoor kitchen areas, use of Unilock Paver Stones provide realistic natural stone, brick and cobblestone textures that are better than natural stone in that they can take heavy traffic and resists stains while allowing easy spill cleanup to stay beautiful.
The Benefits of Paver Stones for Patios
With a lifetime warranty that backs up the no fading, cracking peeling or delaminating characteristics, Unilock Paver Stones will retain their natural color and texture for the life of your home, deck, patio, or other backyard oasis. Our skilled craftsmen are highly experienced at creating any design vision that you and our designers can envision with assurance of the highest level of construction quality that compliments the beauty of the finished project.
With an almost infinite variety of styles and colors, the craftsmen of Amazing Decks can match a color scheme or provide beautiful contrasts for a splash of color underfoot that always blends with the natural setting. While so many choices and possibilities can be daunting, we have the experience of hundreds of projects using Unilock Paver Stones that enables us to provide guidance in your selection. And with our 3D design technology, you can see the finished design in full and natural color to make sure that every detail is to your liking.