Patio and Deck Fireplace Designs Add Comfort and Value to Your Home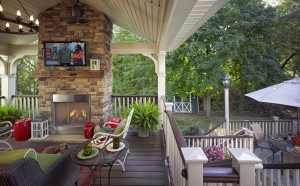 One of the most popular features our customers ask for is a deck fireplace. Our deck fireplace designs will compliment any deck and provide years of good times in the great outdoors for families who choose this amenity. All outdoor fireplace designs include gas-run units by top manufacturers like Napoleon. Our skilled builders use galvanized steel studs to frame the shell and then cover it with real stone. Some of our customers request that we add a handsome mantel. Others want a television set mounted on the face of the wall. Whatever amenities you choose, you'll be satisfied and comfortable for years to come.
We Build Patio and Deck Fireplaces That People Love to Use
People love to sit around a blazing fireplace on chilly autumn evenings, socializing with friends, having a special meal, enjoying the beauty of the fall – all while keeping warm and cozy. With customized deck fireplace designs, all this is possible. With a warming fireplace on your deck, you'll be able to use this convenient outdoor space much further into the cooler fall months than people whose decks have no heating element. This means less time cooped up in the house and more time outside enjoying the beauty of crisp Fall evenings.
Interested in an Outdoor Fireplace for a Deck or Patio?
If you'd like to know more about outdoor deck fireplace designs, and how a new deck can be a lovely extension of your home, we'd be happy to tell you. Contact us today!
You can reach Amazing Decks by phone at (215) 654-1886, or if you prefer, stop by and see us in our showroom at 11 South Ridge Ave., Ambler, Pa.
For information on deck fireplaces in New Jersey, please call us at (215) 654-1886 to learn more.