How Deck Roofs Can Expand Your Livable Space
The subtle nuances between being indoors and outdoors that can be had with a deck roof is where the security and comfort of being indoors gives way to the openness of and freedom of being outdoors. Think about it; it's difficult to create an indoor living space that can do both. When you add walls, the space can often suffer from intimacy bordering on claustrophobia or cavernous regardless of seating areas that reintroduce the intimacy. The deck builders in Montgomery County, PA that have set themselves apart know how to perfectly bridge that gap with deck roofs that can expand living space in profound ways.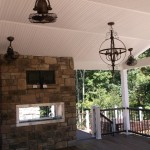 For the best deck builders, the art of architecture that melds intimacy with openness is about how the deck roof can provide the framework for both. The addition of architectural elements and materials such as an integrated brick fireplace can evoke both indoors and outdoors; intimacy and openness at the same time. By understanding how the particular homeowner likes to live, adding such an element to a deck with a roof can create a focal point of active and passive entertainment while never detracting from the openness. This image shows how the pass through of the fireplace bridges that gap and connects to an outdoor kitchen area that has the best of indoors while still providing the best of the outdoors.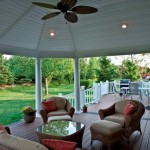 The choice of seating and its arrangement can be the second most important element to a deck roof in creating expanded living space that is both intimate and open. When you are in this space as the perspective of this image suggests, you are in an intimate and comfortable living room or family room where conversation, games or just relaxing can take place with the expanse of the yard and the outdoors itself in a frame without windows.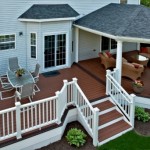 From another angle, we see how this design provides different outdoor experiences as part of the same deck. While they can act as one space for larger gatherings, they can also be separate in terms of gathering spaces and their functionality.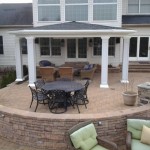 This can also be true of deck roofs over a patio. Here, the same intimacy of the space under the roof is achieved with the seating choice and arrangement while still remaining an area that is inviting rather than closed off from the larger patio space.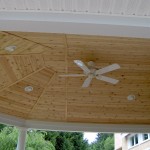 When we are truly indoors, we hardly ever look at the ceiling as a source of character beyond those that are coffered or have molding or other elements. Tuned-in deck builders in Montgomery County, PA understand how the deck roof can enhance and expand that feeling of an extended living area whether you look up or not. The style of the wood cladding of the deck roof can be painted or natural, and depending on board width and design, can evoke an earlier time of Americana or a tropical environment. The addition of a ceiling fan is more than just a breeze generator; it is an emotion generator that adds to the indoor/outdoor feeling that makes a deck roof a unique feature.
Ultimately, a deck roof can be a feature that not only provides a degree of cover from the elements, but one that allows almost unlimited possibilities for shaping the indoor/outdoor balance in the mind and sensibilities of the people beneath and around the space. By adding certain elements to the roof deck design, you can create your own balance that leans one way or the other in terms of intimacy or openness depending on how you want to live.