Fall in Love with Your Deck This Spring
Your home should be a reflection of your personality and a space that you love and find comfort in as you are the one who lives there. If possible, that space shouldn't be limited to just indoors, a relaxing and welcoming backyard area is the ideal place to spend time with loved ones, enjoy a beautiful view, entertain guests or just unwind. One way to fall in love with your home is to improve on the outside space, whether that's by building a new deck or patio or improving one that already exists.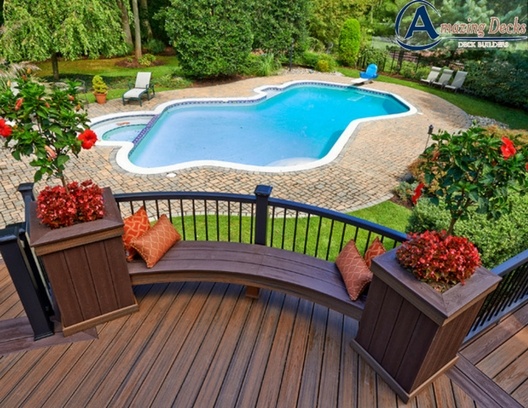 After a long winter, your deck could use some love to breathe back some life into it and create a warm, welcoming outdoor space in time for spring. The amount of work necessary to get your deck in the best shape possible by spring is dependent on the material used to build it. For a wooden deck, preparing it after a long winter could include applying a fresh coat of paint, replacing rotted wood planks, or hiring a deck builder for a major repair. As for composite decks built with Trex decking material, minimal work and upkeep are necessary so more time can be spent in the spring enjoying your outdoor oasis.
Tips for Preparing Your Deck for Spring
Starting off the new season, you'll want your deck to be spic and span before setting out your furniture, plants, and decorations. Using a high-power leaf blower, get rid of any dead leaves, dirt or debris that built up over the winter. After layers of dirt are removed, use a power washer to get rid of mold or rotting wood thoroughly. Be sure to clean your deck in compliance with the manufacturer's guidelines.
If you've left any barbeques, pots, planters, or furniture out over the winter, make sure you wash them accordingly as they can rot or break.
While cleaning off your deck, use this time to replace any broken or uneven pavers stones.
Whether you put your furniture away for the winter or left it out, it's bound to need a good wash. Be mindful of how you clean your furniture as their cleaning needs will vary. Across the majority of furniture types, a gentle spray bottle of water and a soft sponge can go a long way.
Be sure to air out your furniture after washing it to avoid any mold. Pay special attention to seat cushions, make sure they are propped up so they can dry out evenly.
The spring is the perfect time to improve the functionality of your deck. Consider working with a custom deck builder to add on screened in sections, pergolas, or covered roofs. Screened in decks and patios are not only beneficial in warm weather, but they can also help keep bugs out, protect your furniture from damage and provide privacy from neighbors.
Liven up your deck with colorful furniture, umbrellas, accent pillows, and flowers. Pick a welcoming and fun color scheme that not only enhances your home's exterior but also builds character. Incorporate other aspects of outdoor living like dining ware, serving dishes and vases into the color scheme to create a complete, well-polished look.
Freshen up your landscape with fresh mulch and flowers to create a bright, springtime appeal. If you don't have a large yard, you can also pick out store-bought planters and hanging baskets and place them around your area.
Is Your Deck Spring Ready?
Springtime will be here before you know it, and you'll want to be ready to enjoy your backyard oasis. Prepare now to have your deck ready for the first days of spring. If you are looking for a deck builder in PA or NJ to build your dream deck or improve your existing deck or patio, contact us today!