Outdoor Kitchen, Deck, and Outdoor Patios: Designs with Curves
It seems that somehow curves and circles often feel more natural in nature than right angles. Curves and circles provide an outdoor design element that also feels right for fostering joyous gatherings and communication with friends and family. When you combine them with outdoor kitchen, deck, and outdoor patios, designs seem to come alive. Let's look at a few winning combinations to spur your own ideas.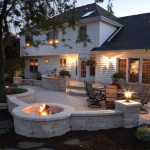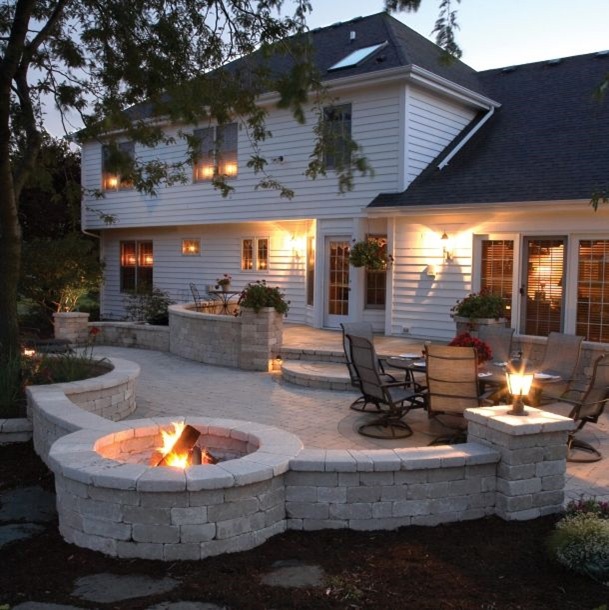 When it comes to outdoor patios, designs with curves like this one seem to provide a feeling of endless gathering spaces that still provide continuity through its curves that keep everyone in the general mix. The rounded half wall partially enclosing the patio section nearest the house provides a great frame for a seating area. It is the perfect height to enable the right balance of separation and open access to the broader patio expanse one step below. The curved steps leading down to the larger patio section provide an open invitation to travel from one to the other. Also, their positioning provides a natural egress from the inside to the larger party space below, and vice versa. Circles at the outer perimeter that engulf the fire pit as well as the tree and vegetation are connected with more curves that also break up areas for smaller groups that keeps everyone a part of the action. The flowing way in which they are all connected forms an outer rim that makes a fairly large space seem more intimate.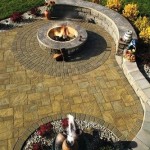 This outdoor patio uses many of the same elements in a slight twist to create a number of semi defined conversation, gathering, and seating areas. The curves are highly pronounced in the flowing seating parameter wall while the circles are slightly understated as patio brick design elements that ring a circular fire pit at one end and circular patterned Zen garden-like area at the other. What a great juxtaposition of fire and water!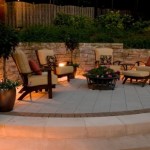 This third design uses a curved stone wall as a backdrop to a beautiful seating area. The raised stone tile patio and its gentle curve at the front are almost like a dais devoted to relaxation and conversation.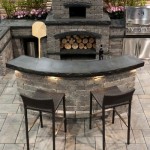 When it comes to an outdoor kitchen deck, curved design provides limitless direction potential. The same can be said for stone patios that incorporate curves into the overall design. This outdoor kitchen has a few right angles, but they are made softer by the numerous curves as well as the stone and slate construction elements. The ultimate outdoor pizza oven becomes a focal point for those sitting at the curved bar area that doubles as a prep area. The open slatted wall behind the oven adds a nice wood element that is augmented by some nice natural plantings to keep things lively, varied and warm.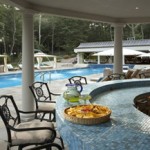 Although we can only get a glimpse of the hidden kitchen elements, this expansive curved mosaic tiled bar in aqua blue gives a great resort feel where good food, great libations, and lounging by the pool are obviously the order of the day.
We chose these examples not just for the curves, but to show that outdoor patio design can incorporate many different elements. The same holds true for outdoor kitchen and deck designs where curves and circles make blurring the lines a fun way to create a varied look and feel all your own.