Trex Deck Railings for Style, Durability, and Safety
The wrong railing can cheapen an otherwise expensive looking deck. You want your railings to at least match, if not enhance, the elegance of the deck itself. Seeing as a deck is an extension of one's home, it, its finishing touches, and the home should feel cohesive.
Perhaps your priorities are more geared toward safety rather than aesthetics if you have toddlers, young children, and/or pets, or are the owner of a public establishment such as a bar or restaurant. If you choose the right deck builder, you can accomplish the aesthetic you desire and create a safe space.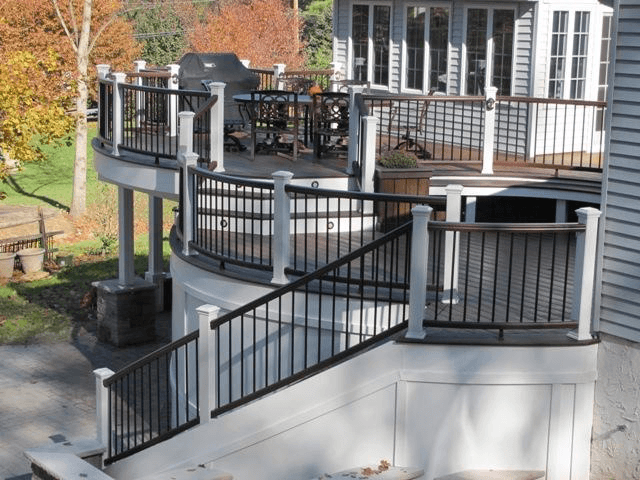 Benefits of Trex Railing
We've found that Trex's railing products offer the most exceptional opportunities to do just that. From clean-lined, aluminum gates and handrails that don't sacrifice sophistication to luxury railings, Trex offers the full spectrum of railing options.
Trex Select® Railing is perfect for anyone on a budget who still wants good quality railings. Select offers simpler designs when compared to other Trex railing products, but this in no way means you'd be sacrificing looks for affordability. You will still get great style and an exceptionally durable product.
Trex Reveal® Railing is great for minimalists looking for the perfect contemporary style. Made out of durable aluminum, Reveal offers clean, stylish lines that provide the greatest visibility. Another noteworthy feature of Reveal is its rigor and low maintenance requirements. These characteristics make it ideal for public decks, porches, and patios.
Trex Transcend® Railing rivals all other high performance railings. We love Trex Transcend® because of its all-around durability. Since it isn't real wood, it will never rot or warp. It won't splinter under your bare feet. It won't peel, and it will never need to be re-painted or re-stained. In the long run, Trex Transcend® Railing is your best bet.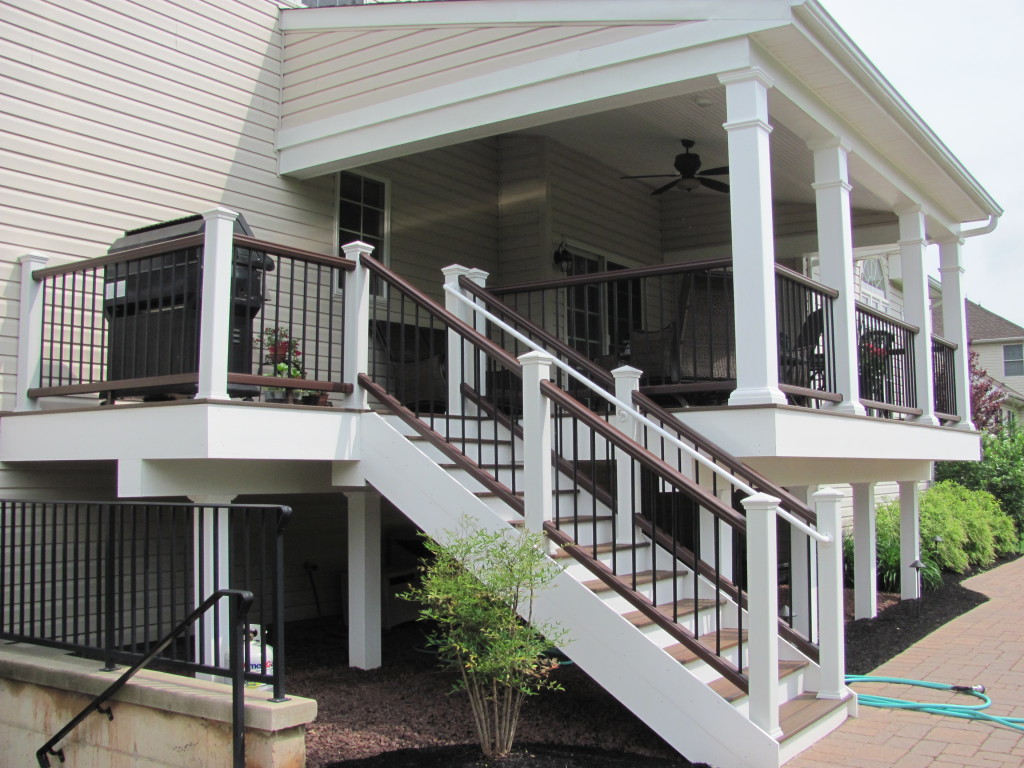 You can make Transcend even more upscale with Trex railing post components. With post sleeves, post sleeve caps, and post sleeve skirts in a variety of colors, you can add elements that make your deck stand out and create a sense of grandeur. In addition, there are a handful of other Trex decking features that can add the needed safety we touched upon earlier.
Safety Features for Custom Decks
Aluminum gates work well with a variety of decks and railings. They can help prevent you from worrying that someone – maybe your kids or a restaurant patron – will accidentally fall down the stairs or wander into a restricted area. Trex's aluminum gates easily latch and are made to resist corrosion and retain their color so that they'll last as long as your deck and railings do.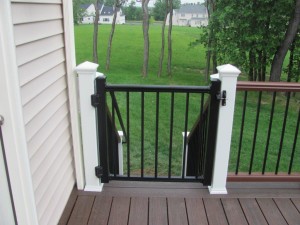 Another safety feature that might interest you is a handrail. Trex's aluminum ADA-compliant handrails are excellent for stairwells at public venues or at establishments often frequented by handicapped or elderly persons.
From homes to public places, the proper railing can complete an outdoor space in true style while fulfilling real needs like safety. At Amazing Decks, we install Trex railings according to state builders' codes. If you're looking to replace a rickety, old, or broken railing, Amazing Decks can help. Contact us or give us a call at (800) 220-3275.