Deck Board Patterns to Boost Your Overall Deck Design
For homeowners, the design of their deck is all about creating a unique space that compliments their property and outdoor lifestyle. Increasingly, many of these homeowners are looking to create decking patterns that are singularly artistic to take the deck up a notch. Here are just a few of the design techniques that you can consider when you want to take your deck design to another level.
Options for Deck Board Patterns
Whether you choose wood or composite decking for your deck, there are a number of different patterns that you can utilize to add a little more character. While creating the design and executing it is best left to professionals, it is you, the owner that should provide ideas and direction for the deck designer as you work with them collaboratively to come up with a unique design.
Parallel decking that runs perpendicular to the joists and parallel to the longest face of the house is a very common design pattern. You can still create a slightly more interesting pattern design by having the deck designer scatter the butted ends randomly over the deck.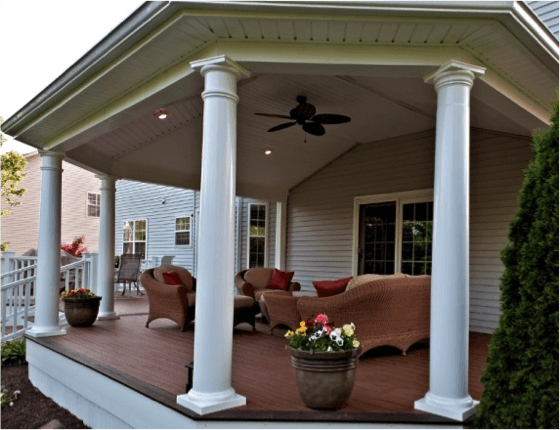 One of the most enduring techniques is to utilize two or more different colors of wood or composite decking in the design. A bolder look can be achieved through the use of a darker boarder such as this design. The parallel deck pattern is further enhanced by the contrasting pillars and shape of the deck.
Deck Board Patterns for Curved Deck Designs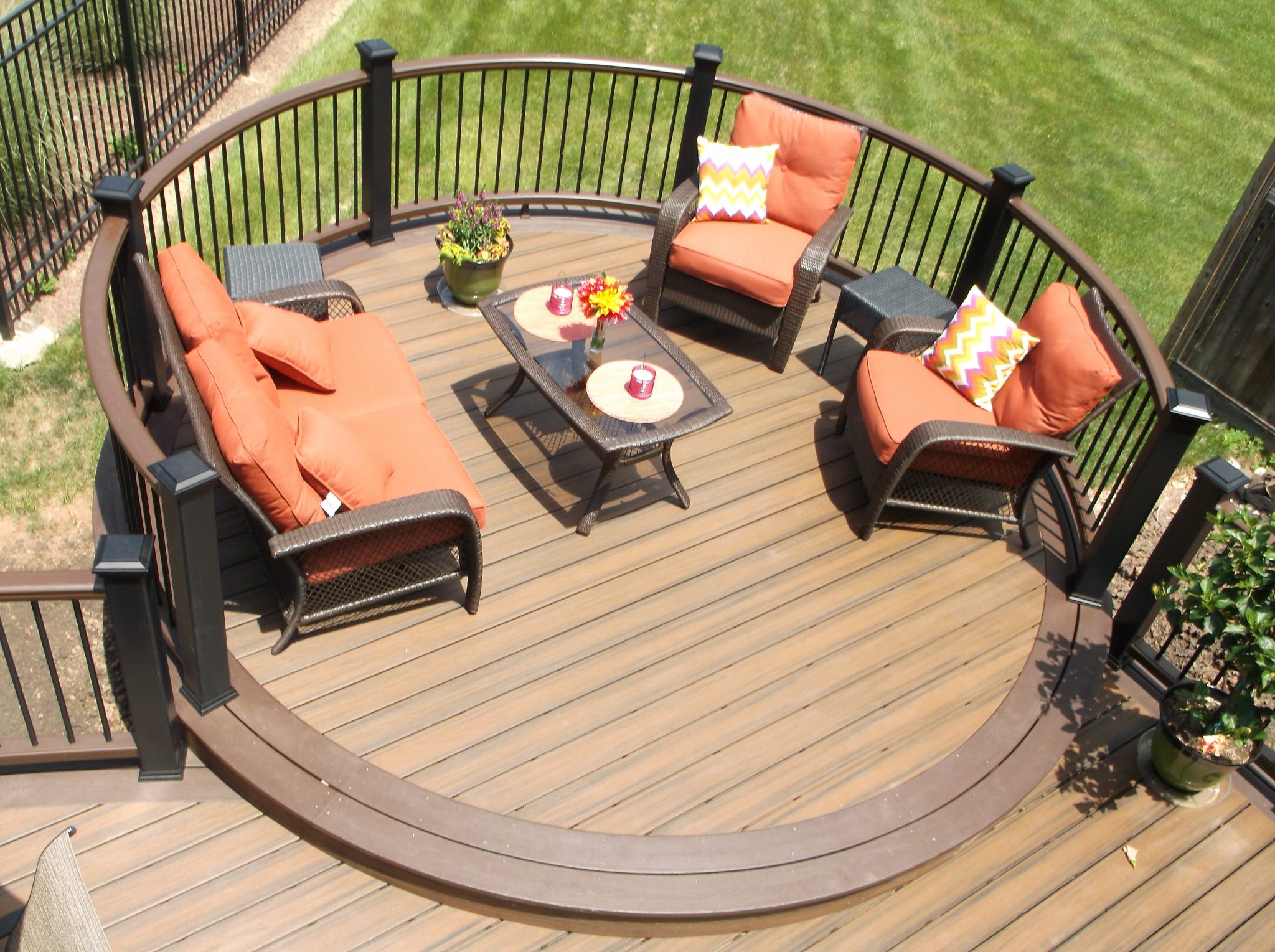 Curved deck designs can instantly make parallel deck patterns far more interesting. Curved decks can work on a single or multiple levels and even with the parallel decking pattern, the curvature of the railed portion of the deck can add that greater level of interest as it contrasts with the parallel deck boards.
If you create separate seating or gather spaces off of the main curved deck with large circle designs, you can go even further, such as with this curved deck design with inlay circles.
Another way to add greater design interest with this type of curved deck design is to utilize contrasting board angels for rounded sections.
Regardless of the overall shape of your deck, you can add inlay patterns that provide a unique visual punch to the deck overall. Adding squares, rectangles, circles, stars or any number of different patterns can be subtle if you use the same deck colors or more striking if you utilize contrasting colors in the pattern.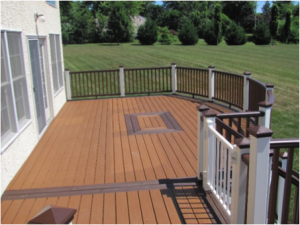 It's highly feasible to create a deck design that incorporates several of these design pattern boosters.
For instance, creating a curved deck design that has rectangular inlays and borders of different wood colors can add a little interest while this more intricate design can go even further.
Geometric patterns encompass a wide range of alternatives, among them Chevron, parquet, diamond, and herringbone. Geometric patterns often combine aspects of parallel and mitered styles into modular units.
One thing to remember as you work with your deck designer to incorporate these deck pattern designs is that small decks may be overpowered by some of these patterns. Of course, variations can be designed and scaled to fit proportionally into the overall deck with the right deck designer that has mastery over the latest design software.
If you are ready to get started designing your deck or patio, contact us today!