Deck Design Ideas for Creating the One-Of-A-Kind Deck of Your Dreams
Developing ideas for your one-of-a-kind dream deck may seem like a daunting task at the outset. Still, with so many great outdoor decks, design ideas that are already executed can be a far simpler and more fun experience of idea development as you work with your deck designer/builder.
Although everyone that wants to build a deck has some idea on how they want to use it, they often don't know how much they want a specific element until they see it. Planning your deck is a visual experience that Amazing Decks accommodates with tons of photos on our website. However, you can also branch out to our Pinterest page to gather ideas for the deck of your dreams.
Fireplaces, Fire Pits, Hot Tubs and Grills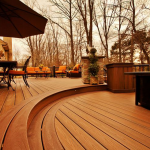 With outdoor fireplaces, design considerations start with how you want to use your outdoor fireplace. This can help determine size, materials, location and more that allows you to incorporate it properly into varied outdoor decks, design options, and overall flow.
Whether you choose a fireplace for extending the hour and the season of an outdoor space, they can be designed for wood, gas applications, or both. When you incorporate elements into your deck such as fire pits, hot tubs, and grills, they can be subtly divided from lounge areas or, they can be the focal point of the entire outdoor living area.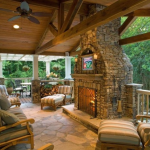 When it comes to materials for the outdoor fireplace's design, keep in mind that they can be built from scratch or prefabricated. They can then be finished in a variety of stonework with exterior materials ranging from brick or stone to stucco.
Multi-level Deck with and without Pergolas
Multi-level decks can create great separate areas for dining and entertaining while also accommodating sloping properties, as well as multiple levels of a home.
How about a multi-level deck with built-in pergola for the top level
Or maybe a more subtle step-down area for lounging with a pergola covered upper level for dining. Knowing that the only limitation is your imagination— some choose to create a pergola covering for the entire deck.
Curved Decks and Covered Porches Designs
With outdoor decks, design elements such as curves can be the basis for an entire deck design that adds undulating rhythm to the exterior of a home or they can provide more subtle curvature to longer expanses.
They can also provide bump out seating areas or separation of space for differing activities or elements.
Adding a covered deck can make for a seamless transition from outside to inside or a way to add some older world charm to a deck design that fits with the home.
Pool Decks Designs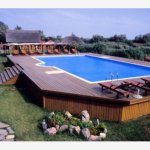 If you see a pool in the future of your outdoor deck's design, incorporating them together as either a standalone oasis or as an outdoor living area extension are just two ways to go.
In any case, they can provide a sense of warmth that can subtly blend them in with the overall surroundings. This integration can be accomplished with pavers or composite deck materials that can stand up to anything thrown at them while keeping their beauty.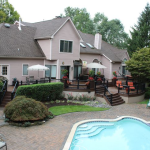 In order to create beautiful outdoor decks, design elements must be seamlessly integrated into the whole design from the idea phase of the project. Although the size and shape of your available area and the design of your home are considerations, they do not limit your creativity.
With outdoor fireplaces, design considerations are more about how you intend to use it. The same goes for other elements ranging from hot tubs, fire pits. and seating areas to larger statement and use elements like pergolas, roof decks and pools. Just keep in mind that seeing it first can help you envision it for your dream deck design.