Guide to Properly Cleaning and Caring for Your Deck
Caring for your deck varies based on what kind of deck you have. It can be as simple as a little soap and water with today's composite decks to something more labor and time intensive that is better handled by a professional as with wood decks. No matter what type of deck you have, caring for it properly will help to maintain its beauty and keep your investment secure.
How to Clean Trex Decking
Although today's composite decks are maintenance free in comparison to wood decks, owners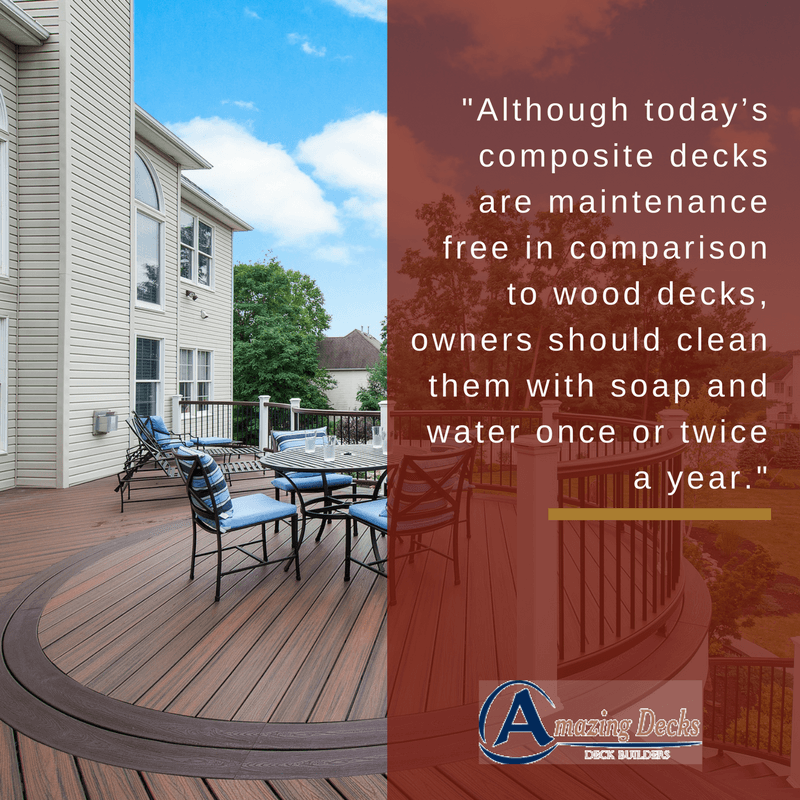 should clean them with soap and water once or twice a year. Composite decks are made of materials that will not rot, rust, fade or mildew. Despite the fact that very little can go wrong with their structural soundness, it is still a good idea to periodically make a visual inspection.
Some essential tips to remember with composite decks is never to use shovels or any sharp objects to remove snow and ice from the deck in the winter. Your deck design and building specialist is supremely knowledgeable about the product that they employ. Consequently, they can suggest the best snow melt products to use that will be safe for the decking materials.
It is best to remove any residue left over from the recommended ice removal product once the snow has cleared by sweeping it up and disposing of it properly. This will ensure that the granules will not end up in flower, beds, soil, or be tracked into the house.
Can You Power Wash a Composite Deck?
According to Trex guidelines, you can power wash a composite desk with a pressure washer with no greater than 3100 psi that has a fan attachment/adjustment. Also, a soap dispenser may be used to remove dirt, concrete dust, or other types of construction dirt.
To power wash a composite deck, spray deck with soap, then follow by gently scrubbing each deck board with a soft bristle brush. Spray/rinse each deck board using a fan tip no closer than 8″ from the decking surface and rinse thoroughly, as dirty water from cleaning left to dry will cause a film to remain on the decking surface.
How to Clean a Wood Deck
For many homeowners maintaining their wood deck properly is more of an investment of time, labor, and expertise than they bargained for. Even if you wisely choose to have a professional maintain and clean your deck, it's important to understand what may need to be done to ensure the right choice of professional maintenance help.
As outdoor spaces, decks are exposed to extreme elements of heat, cold, and moisture. With wood decks, this means annual and semiannual maintenance. When it comes to semiannual cleaning and maintenance, the most important task is washing the deck to ensure the removal of mold and dirt that can build up and cause rotting.
A professional service will do an inspection of your deck before they engage in power washing to ensure that there are no existing signs of rot and the structural integrity of the deck is sound. This will include the railing, spindles, deck joists and any footings. Since many professional services that specialize in deck power washing will charge by the hour, half day or full day, any extra time can be devoted to power washing any brick patio elements or walkways.
Power Washing Wood Decks
Although power washing a wood deck is not rocket science, it does require some knowledge of pressure tolerances of the specific wood and the proper technique to ensure that surrounding areas are not damaged in any way. For example, plastic should be utilized to cover any bushes, flower beds or shrubs that may be near the deck.
A quality power washing service uses the proper cleaners to restore the deck to a pristine look without harming plants, vegetation, grass or soil. There are some quality organic cleaners available, so it's a good idea to inquire about the cleaners that they use. The same goes for sealing your wood deck, which should be done once a year.
How to Extend the Life of Your Deck
If you have chosen the most experienced deck and patio designer and builder with the best crews and materials, you have created an outdoor space that adds untold beauty, value, and enjoyment to your home. By consulting them about maintenance and choosing professionals that can do the job right following completion of the installation, you will enjoy the beauty of your deck, patio or porch for many years to come.
Contact us today for more information on Trex decking.