Ideas for Incorporating Deck Lighting into Your Deck Designs
One of the most important areas that contribute to the maximum use of your deck while also adding to its ambient beauty is deck lighting. From entertaining guests at an evening affair to an intimate evening alone with a loved one relaxing in the hot tub, lighting must be versatile in
order to provide safety, serenity and stylized illumination to your outdoor oasis.
Deck builders that specialize in design will work with the homeowner to plan the deck based on its intended uses. This will help determine where and how lighting will be incorporated as well as a host of other characteristics and amenities. In order to begin visualizing the final design of the deck, it's important for homeowners to have an understanding of the different lighting elements and what they can provide regarding specific and general lighting.
Types of Deck Lighting
For those planning to use their deck for entertaining, brightly lighting the deck without ruining the ambiance can be accomplished with a number of different light fixture types that are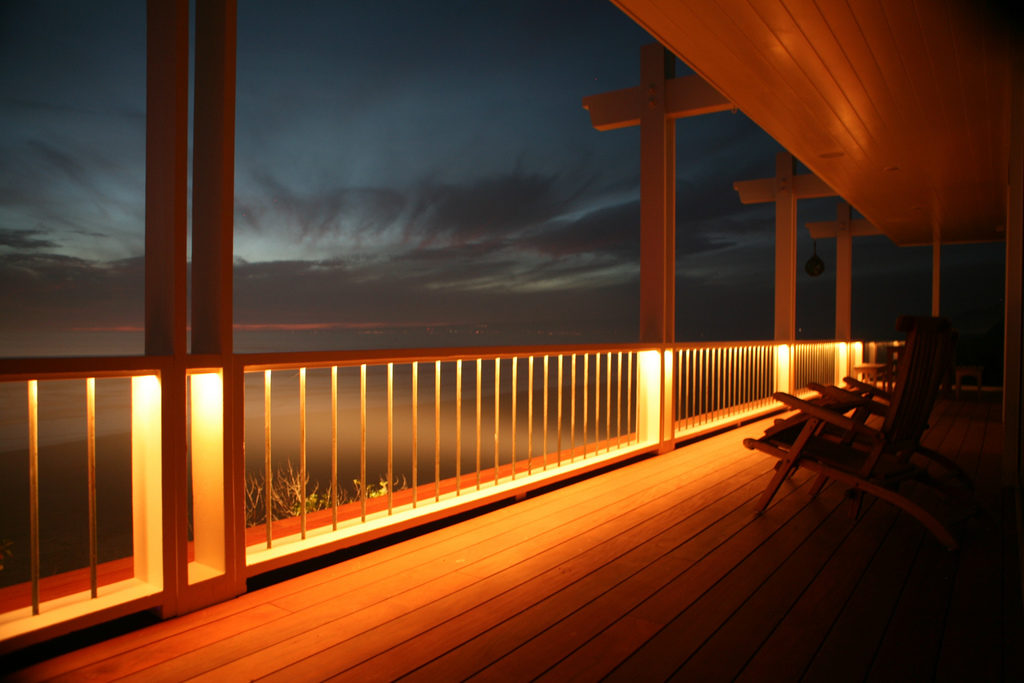 attached to specific areas of the deck in quantities based on usage areas and traffic patterns. Deck lighting can fall into one of the following two categories either functional or decorative.
While functional lighting is to provide general illumination, it is still indirect lighting in many ways so as to maintain the ambience and keep direct light out of the eyes of anyone on the deck. This lighting can be in the form of:
Wall sconces, or it can be concealed behind wall valances, roof eaves or rafters
Perimeter lighting with lower power floods can be placed in adjacent trees or bushes to provide light to the deck indirectly
Privacy screens can be illuminated from the top or bottom to provide general illumination as well.
Many types of lights like post cap lights, floor lights, and underside of railing lights, which are often LEDs, can provide both ambient decorative lighting while contributing to general illumination. Strings of miniature lights can be used to link deck items such as railings, pergolas, arbors, patio umbrellas in various areas and quantities depending on the desired effect. Larger Chinese lanterns or other decorative lanterns can be strung to provide transitional lighting for the deck as well as throughout the yard and an adjacent patio.
Solar Deck Lighting
Solar deck lighting is an environmental and energy efficient deck lighting options that are cost and energy efficient. Solar deck lighting is a good option for your deck if you are looking for decorative lighting. They are easy to install as they don't require a central power source or wiring. However, the drawback to solar deck lighting is the quality and strength of light they produce.
LED Deck Lighting
LED deck lighting is a very popular choice, as it's energy efficient and available in a variety of colors. While they may cost a bit more upfront than fluorescent lighting, LED lights can pay for themselves over time as they are cost effective and have a longer life expectancy. LED lighting can instantly add to the atmosphere of your deck or patio and is the perfect choice for both decorative and functional lighting.
Another unique advantage of LED deck lighting is that LED lights produce little to no UV emission, which are the light wavelengths that attract bugs. Therefore, you can enjoy the ambiance and beauty of your deck at night without being bothering by pesky bugs.
Deck Stairs and Step Lighting for Safety
One part of a deck where lighting help improve overall safety is deck steps lights or deck stairs lighting. Stair riser lights are an important safety feature (which may be part of a building code depending on where you're located) while they also provide a nice ambient lighting touch. More importantly, adding stairs or steps lighting to your deck helps make your deck a safe place for everyone. Deck stairs and stair lighting can enhance the appearance of stairs on your deck while facilitation sure footing.
Patio Lights for Safety
The same can be said for paver lights, which can be directly installed into the walkway or as path lights that go directly into the ground adjacent to the walk. They can also be integrated into a paver stone walkway design.
Deck Lighting for Trex Decks
Trex deck lighting is a must have to enhance the beauty of your new deck design and can easily be installing into an existing Trex deck. One of the unique features of Trex deck lighting is the Trex LightHub connection system. This innovative feature allows homeowners to take their deck look up another notch with optional timers and dimmers. The Trex LightHub allows the lighting to be used in various combinations for everything from festive parties to intimate, relaxing nights in the deck hot tub.
Trex deck lighting matches the beauty of a custom Trex deck with a long-lasting glow. Their lighting systems are built using high-performance materials that can withstand even the toughest of weather.
Illuminate Your Deck Design Today!
At Amazing Deck, we are deck builders that are design and building experts who can help homeowners make decisions on what types of lights and in what quantity they are necessary along with the placement decisions. If you're ready to get started on your Trex deck design, contact us today!