Old Furniture Not Doing Your Deck Justice? Time to Redecorate!
You've invested wisely in order to design a deck that is customized to your needs and preferences. You've even decorated it with beautiful patio furniture. But it's been a while, and your furniture is faded, worn out, and out of style. It may be time to redecorate with some furniture ideas that can bring new life, comfort, style, and functionality to once again make your deck a perfect outdoor space.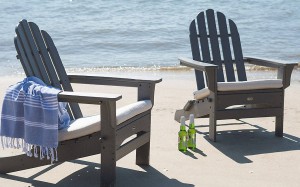 The Adirondack Chair

There's a reason why Adirondack style chairs have been a venerable design element in outdoor seating for many decades. Their general design style is meant for lounging. The look is somewhat light and airy while still being highly substantial and timeless. Although originally constructed of wood, today's modern designs bring new composite materials to the mix that can bring subtle or sparkling colors into your design scheme. Comfortable cushions one-up the original designs with a splash of additional color. Plus, today's chairs and cushions can withstand the elements better than original Adirondack chairs.
The Chaise Lounge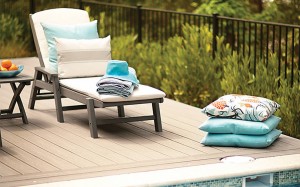 For full relaxation, the chaise lounge takes it up a few notches. Modern takes on this timeless Egyptian era classic possess the luxury and beauty of the original chaise lounge. For use on decks, on patios, or in pool areas, modern composite materials provide functionality and durability.
The beauty of the chaise is that its frame and general design esthetic will fit into almost any décor and color scheme. Most importantly, the removable cushions can bring in eye-popping colors that blend, match, or compliment other elements in your outdoor space.
Rocking Chairs and Swings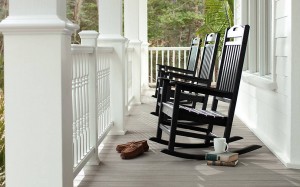 You can accomplish the perfect combination of comfort and functional gathering space in other ways. For example, a modernized rocking chair can be just as at home on your porch as it can inside. Also, a porch swing can provide an alternative means of relaxation to traditional deck chairs.
The Classic Club Chair
The classic club chair has come a long way since its origin as an interior décor chair in France. Modern designs and materials now make them perfect for outdoor entertaining while subtle elements date back to its origin. A combination of durability and lightness with plush cushioning that provides warm but light colors without overpowering the chair or the space are the order of the day (or night).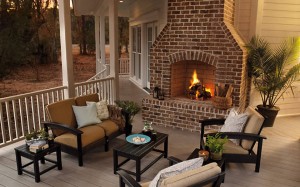 The beauty of these modern updates on traditional classics is that they can be mixed and matched to create exquisite outdoor seating areas with chairs, sofas, settees and small coffee tables for the ideal outdoor gathering space. When it comes to making the most of your outdoor space, dining sets made for decks can evoke and reflect everything from seaside dining to a comfortable yet upscale al fresco dining area in the country.
Today, you can have it all with materials and designs that are both comfortable and durable, light yet substantial, and modern with classic undertones. There's no better time than now to bring renewed life to a great deck design with new outdoor deck furniture.
Ask us how we can help you complete your deck with amazing style.
Photos courtesy of our partner: www.trex.com