Extend Living Space with Screened In Porches
There is no better way to increase your living space than through screened in deck or porch designs. In spring, summer, and fall, you want the best of both worlds—the conveniences of an indoor room along with the cool breezes and views that screened in porch can provide. Combine comfortable and colorful indoor/outdoor seating and rugs with other furniture that allows you to relax or even work in a setting that has all of the great advantages and none of the drawbacks to being in an unprotected space in the outdoors.
The Benefits of Screened-In Decks or Porch
Screened-in porch designs can make a wonderful ad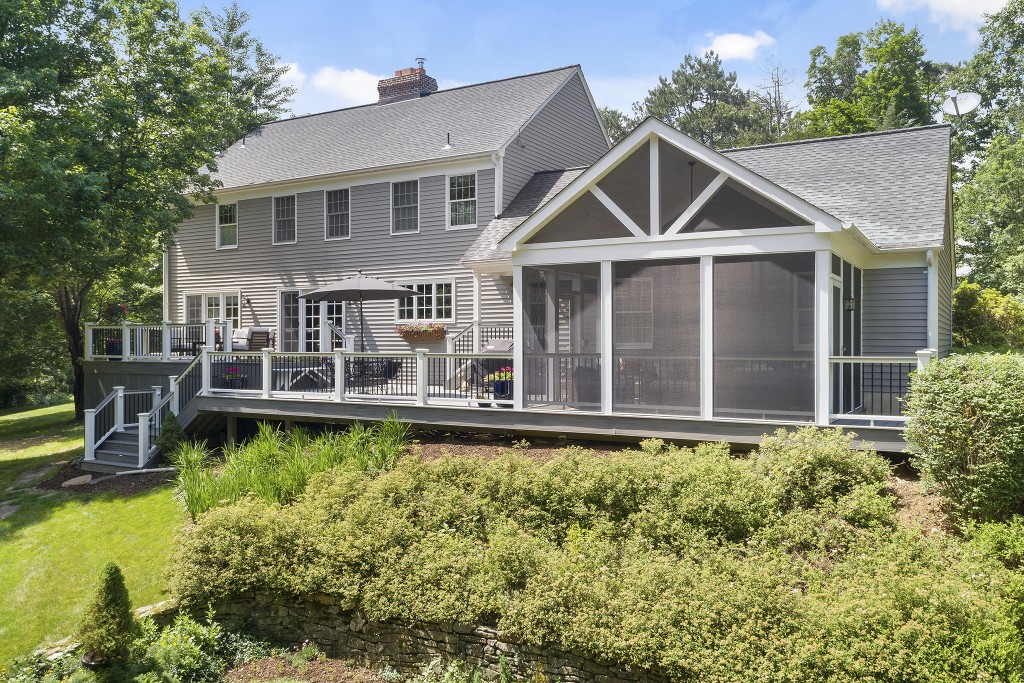 junct to an indoor/ outdoor area that may feature an outdoor kitchen, bar or barbecue area such as in this design. You can easily create the perfect outdoor entertainment space that has a variety of useful areas that are all connected with open sightlines for cooking, dining, conversation, mingling or just relaxing.
Creating areas that incorporate screened deck designs can also provide the best of both worlds with traditional uncovered, unscreened deck portions that are joined to areas of covered and screened deck areas. This is the perfect choice for those family members that want a little shade without being separated from everyone enjoying the exposed deck area. And when night begins to fall, you have a beautiful space to keep enjoying the deck without the intrusion of pesky mosquitos.
If a little more separation is to your liking and you have an existing porch with an exposed deck, you can create a screened porch with a more traditional look and feel while keeping the outdoor deck portion a separate affair. Floor to ceiling screened decks are a fantastic way to create that feeling of openness without any of the potential drawbacks of being outdoors while keeping sight lines fully open.
How to Plan for a Screened-In Porch
Whether you have an existing deck you're looking to convert into a screened-in porch or want to extend your home and increase its value by adding a screened-in porch; it's important to decide exactly what you want to do in this new space. Working with a decking contractor/builder during the planning/designing stages will help create a custom screened-in porch that captures and fulfills your exact needs and desires. Some things to consider when planning for a screened-in porch are:
The functionality and flow of the space
Matching the exterior of the porch to the exterior of your home, so it looks blended and cohesive
Additional features like fireplaces, ceiling fans, lighting, TVs, etc.
How to Weatherproof a Screened-In Deck
Protect your screened-in porch during rainstorms and winter weather to keep your porch and furnishing dry. Often the screens used are too flimsy to protect against severe weather and tend to retain water after a storm. Unless you plan to convert it to a walled party of your house, it's impossible to keep every drop of water out but with a little weatherproofing you can protect your porch.
Add weather-resistant window shades around the exterior of the porch to help protect it and deflect weather from entering. Exterior window shades are typically made from resistant fabrics that can withstand the elements without rotting or mildew. Outdoor window shades are conveniently roll up when not in use, typically dry quickly, and are easy to clean.
If you are interested in adding screened in porch to your home this spring or summer, contact us today to get started!