Stonework Brings a Balance of Modern and Traditional to Outdoor Kitchen Deck or Patio Designs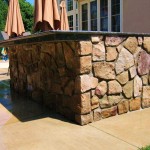 Something about stone and brick coupled with outdoor patio designs just seems right. Today, you don't have to bring in a stone mason to create beautiful outdoor kitchen designs that use real stone, and brick.
The permanence, quality and elegance of this outdoor kitchen is undeniable as the combination of stone cladding, marble countertop and cement patio create a unified theme while providing varied textures and colors that still complement one another.
The use of larger stone cladding works well with this outdoor kitchen as it fits the larger scale of the island. That isn't to say that stones with a smaller surface area would not look equally as great.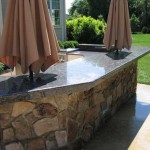 It's really just a matter of preference—where the larger stone surface makes the individual stones stand out more, smaller stones might provide a feeling of more uniformity. As thinner stone cladding with a uniform cut back, application can be accomplished by a qualified deck and patio contractor.
The look is still substantial with a randomized surface and outline of the original stone without making the wall structure unnecessarily thick and obtrusive.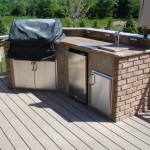 This outdoor kitchen deck design utilizes full bricks for the exterior melded with textured concrete for the outer façade of the outdoor kitchen .Once again the concrete, brick and marble bring color and texture variances that still complement one another as part of the whole.
Bricks are the ultimate in rustic uniformity as they provide predictable color variances and a completely uniform design of brick and mortar lines along with the great brick texture.
Outdoor patio designs can successfully mix and match all of these materials or find a happy compromise. This design uses blocks that are smaller and provide a far more finished and elegant look than cinder blocks while evoking their best character traits. Its thin design is in line with our substantial-without-being-bulky design ethos when working with brick and stone.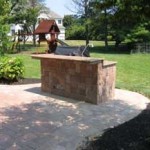 The patio itself uses a complementary paver stone. Together, these two materials bring elements of uniformity and randomness together in visually and texturally interesting ways. Color variances all fall within the same general spectrum without blending together too much, and the marble top adds just the right amount of variance in color and texture to keep the whole thing exciting.
Brick and stone are great equalizers as they span the distance from elegant to rustic in bold or subtle ways depending on your personal preference. With so many variations of brick and stone in an almost endless color palette, your outdoor kitchen deck or outdoor patio designs can have endless possibilities.