Trex Deck Designs: Comparing Select, Enhance, and Transcend Decking
If you haven't checked out Trex for durable decking that doesn't sacrifice style or stray far from the look of real wood, we highly recommend you take a look. We're such strong advocates of Trex decking here at Amazing Decks that we exclusively build decks using Trex decking products. Why is that?
Trex uses innovative materials that provide some of the longest lasting decks in terms of wear and tear – mainly because there is very little of it compared to traditional wooden decks. It doesn't rot, warp, peel, or splinter. It doesn't require a fresh coat of paint or need to be re-stained after so many years. It also holds up in extreme temperatures and weather conditions.
Trex deck design comes in three types: Select, Enhance, and Transcend. You can't go wrong with any type of decking from Trex, but we've created a chart to help you decide which type is best for your needs.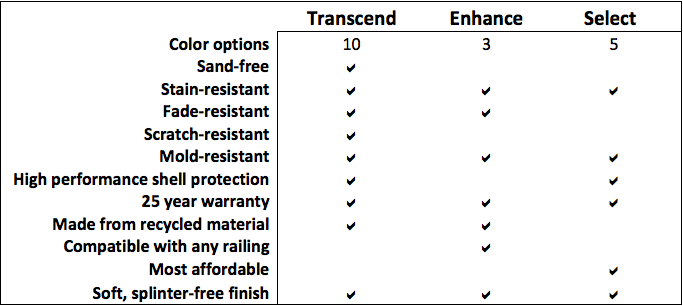 Trex has a variety of deck colors. For example, Trex Transcend decking comes in Premium Tropicals (Havana Gold, Island Mist, Lava Rock, Spiced Rum, and Tiki Torch) and Earth Tones (Fire Pit, Gravel Path, Rope Swing, Tree House, and Vintage Lantern). Enhance and Select decking offer other exotic and warm tones such as Madeira and Woodland Brown. Combining colors in your deck design can add visual interest and enrich the overall attraction of your deck.
For those of you who like to keep it green, Trex Enhance and Transcend decks are made of 95% recycled material. In fact, Trex prides itself on never having had to cut down a tree – ever.
And as you can see, any type of Trex decking resists stains and mold and comes with a 25-year warranty. To see examples of decks built using Trex decking at homes like yours, check out our resent projects. We like working with our customers to realize their dream decks. Contact us or give us a call at (800) 220-3275 for more information on what we can do to build you an amazing deck with Trex decking products.