Trex Decking Cost and Budget Recommendations
Winter is the best time to start thinking about building and budgeting for a new deck in the spring. There are many factors to consider, including the resale value of your home, deck material, size, style, and unique features. Planning and budgeting during the winter gives you time to save money in order to build a beautiful new deck or redesign your existing deck come the spring. After all, a beautiful deck is a significant investment – but it can be well worth it if you do it right!
The design of your deck and your choice of materials will affect the project's overall cost. Consult with a decking contractor during the budgeting process so you can keep your budget realistic and know that you're getting a good product for a reasonable price.
Cost Factors of Trex Decking
The cost of a new Trex deck is dependent on the following factors:
The material and size of your future deck typically plays the largest role in determining the cost. The price range for material varies depending on the Trex decking material you choose. Materials are typically priced per square foot, therefore depending the overall cost of material depends on the size of the project.
Labor and installation costs are dependent upon the scope and time of the project.
Additional features like extra platforms, railing systems, lighting, outdoor kitchens, patio, etc. will increase the overall cost of a deck.
Seasonal factors can alter the overall cost of your budget. For example, deck contractors typically increase labor costs leading up to and during busy summers months. It is advised to discuss the best time for installation with your deck contractor.
Trex Composite Decking Materials Options
Trex offers three different lines of decking material; all three offer a 25-year limited warranty against material defects.
Trex Select- Using the shell technology, Trex re-engineered their standard product line. With Trex select, we can offer a lower cost alternative to Trex Transcend, and you can still get the resistance to fading, staining, and mold. Trex Select comes in 4 standard colors.
Trex Enhance- Enhance is Trex's mid-grade decking material which offers high-performance fade, stain, mold and mildew protection.
Trex Transcend- Transcend is the highest-grade of Trex decking available eight different colors, so it is easy to find a color that matches every home. Transcend is engineered with a proprietary shell technology that can stand up to even the harshest of elements including sun exposure and heavy snow as well as scratching, mold and mildew.
The Benefits of Trex Decking
While custom composite decks tend to be more expensive than traditional wood decks when it comes to upfront costs, composite decks can save money and be profitable for homeowners in the long run.
Selling your home
It's important to take into consideration the resale value of your home, as well as how long you plan to live in it. If you plan on selling your home shortly after your deck is completed, you may not want to build an expensive desk that you won't be able to enjoy for long. However, having a deck does increase your homes resell value.
Materials
At Amazing Deck, we are proud to use Trex's alternative decking material because it offers many advantages over traditional wooden decks such as resistance to warping, fading, splintering, mold, and decay. The life expectancy of this kind of alternative decking material is approximately 25 years. In the long run, Trex decks can save homeowners money as they do not need to worry about regular maintenance and upkeep like rotting, splintering, staining or sealing.
Budgeting for Custom Deck Design Features
Play around with design ideas and be creative when designing your deck. Just be aware that design elements such as size, custom shape, different levels, built-in benches, stairs, railings, gates, etc. can increase the cost.
We suggest putting your money toward the things that will help you get the most out of your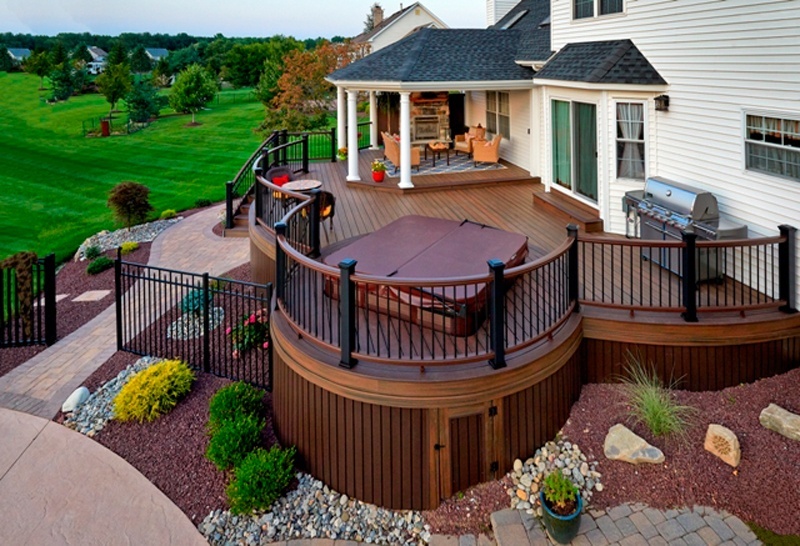 investment. For example, maybe you don't need a huge deck because you don't entertain for large numbers – just a small group of friends. So make it smaller, add a fire pit where you and your friends can hang out, and maybe buy some nice Adirondack chairs.
Some other special features you incorporate into your deck design are an outdoor kitchen, a screened-in porch or pergola, and a spa or pool deck.
The layouts of your house and backyard also have a lot to do with the design of your outdoor deck. If your home has two levels, you may consider an upper and lower deck. You could divide the entertaining you do where one space is for lounging and conversation while the other is for cooking and eating.
Depending on the deck design, built-in benches along the perimeter can provide areas where seating and gathering can happen simultaneously without interrupting the flow. Space, usage patterns, and traffic flow are all considerations here.
Furthermore, safety is an essential factor that will shape the deck design in terms of stairs, railings, height off the ground, and lighting. Designing a deck where only adults will be accommodated, and one where children can play safely can have different considerations in terms of layout, flow, and structural barriers
New Deck Budgeting Recommendations
Whether you're budgeting for a new deck or a deck redesign, it's best to start by making a list of wants versus needs to help you prioritize and make decisions during the budget and design process. If your budget doesn't allow for all your desires, keep in mind that building your dream deck can be completed over time in smaller stages.
Although deck additions tend to be straightforward projects, it's always a smart idea to allocate a small portion of your budget toward unexpected costs. For example, you may encounter issues with soil quality.
You want to be sure that your deck addition adheres to your city or town's building codes and permits. Working without the proper permitting may cause your project to be stopped until you obtain the proper paperwork. Because permits differ from town to town, your deck contractor should be able to file and obtain any permits necessary to build your deck. The cost of obtaining permits depends on where you live and the scope of your deck addition.
Depending on local regulations, the addition of a deck may also increase your property taxes since a deck is considered a permanent structure that adds value to your home.
After your deck is built, you should also contact your homeowners' insurance company to have your deck added to your existing policy.
Are You Ready to Build Your Dream Deck or Patio?

At Amazing Decks, we will work with you every step of the way to ensure your dream deck becomes a reality. Check out our recent projects, to see examples of our work. You can contact us or give us a call at (800) 220-3275 for more information on what we can do to build you an amazing deck within your budget.