Why Paver Stones Make Beautiful Outdoor Patios
Build your dream patio with the best material on the market – paver stones.
While there are many products on the market used for outdoor patio designs, we believe that paver stones are hands down the best material on the market today. Nothing else on the market can give you the same durability coupled with nearly endless options for color, texture, size, and pattern combinations. Unique patio designs with paver stones create a relaxing outdoor living spaces that allow you to enjoy their beauty for years to come.
Interested in creating or updating your home's outdoor patio? Before you begin designing your patio, what are the downsides to paver stones for patios?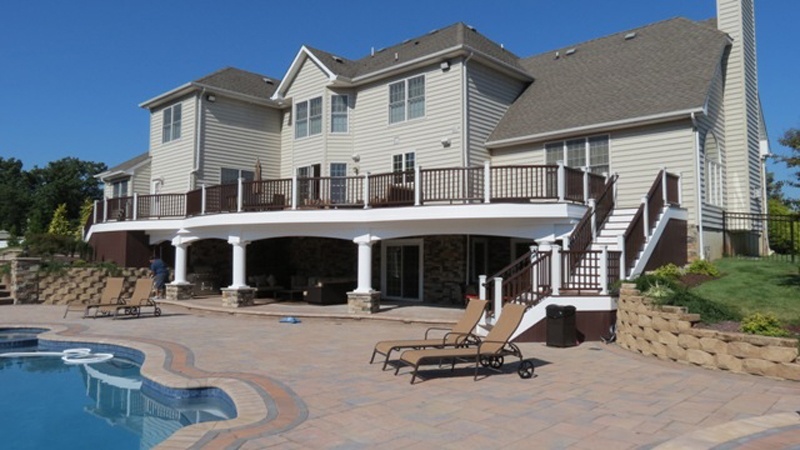 Paver Stones for Patios Cons
There are very few drawbacks to paver stones. The first is that they can be time consuming and tedious to install, since they have to be laid down one at a time. Also, interlocking pavers require a little more attention to detail. The upside, at least for our customers, is that installation is our problem – not yours.
The other two drawbacks are that the stones may shift over time, and weeds can grow in between the joints. Fortunately, polymeric sands do an excellent job of preventing, or at least, delaying these problems. So why should you use paver stones for your patio?
Paver Stones for Patios Pros
Although paver stones are time consuming to install, the process is easy. Plus, they can be walked on immediately, unlike concrete, which requires time to cure.
The design options are practically limitless. You can choose from a wide variety of colors, sizes, textures, and shapes, which can be use to create patterns and borders. Combining multiple colors, textures, etc. gives you even more possibilities to create visual appeal through dimension and contrast.
Once your patio pavers are installed, maintenance is low. At most, you'll have to re-sand the stones ever 3 – 5 years in order to keep them polished. Otherwise, you're looking at occasional sweeping and hosing.
Paver stones are also very durable compared to concrete. When the stones are made, the material is tightly packed to make them very dense. This reduces incidences of cracking and breaking. But if damage does occur, you'll only have to replace one or two pavers as opposed to a huge slab of cracked concrete. Not to mention that using polymeric sands will significantly reduce the need for repairs and maintenance in the first place.
In addition, pavers are skid- and stain-resistant. You're much less likely to have slip-and-fall accidents after rainfall or around your pool. And in the winter, de-icing salts won't leave a permanent residue behind.
Lastly, permeable pavers might be a good option for you if the area in which you're thinking of installing them tends to collect water after rainfall or as snow melts. The permeable pavers allow water to run through the stones to prevent water runoff pollution and erosion of nearby garden beds or grass.
If a great patio consisting of paver stones is something your home is missing, contact us today and ask for a free estimate! A friendly associate will be happy to answer all your questions.
For information about outdoor patio designs and builds in PA, call Amazing Decks at (215) 654-1886 or visit our showroom at 11 South Ridge Ave., Ambler, Pa.
For information about outdoor patio designs and builds in New Jersey, please call us at (215) 654-1886 to learn more.
Amazing Decks uses Unilock Paver Stones to create beautiful patios, pool patios, and walkways.